"Reliable did an amazing job with water damage we had in our home. They were fast responding and got the job done quickly. Their repair work looks great also. They cutout and replaced damaged and made sure it looked just like nothing had happened." – Michael A.
"I had a flooded house from a busted pipe. I called Reliable Restoration and they came out and cleaned up my house without problems. They did an awesome job!! Thank you guys." – Andrew S.
Click here to see more of our Google reviews!
Click here to see our Google Map.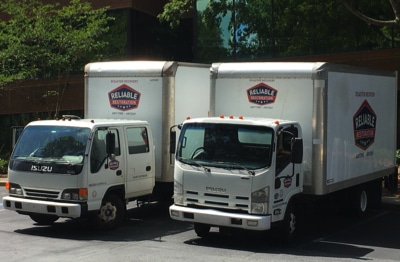 Athens
Water Cleanup and Flood Damage Restoration
As with a water loss situation, flooding in your home can wreck havoc on your home or office. Contact Reliable Restoration for your water damage cleanup and removal in Athens, GA. Our crews are experienced, knowledgeable and diligent. Our goal at Reliable Restoration is to get your property and business up and running and back to pre-loss state as quickly and efficiently as possible.
No matter how you got flood damage, whether it from storms including hurricanes, floods, tornadoes and more. Dealing with them becomes frustrating for most. Sometimes it's not an outside force that causes the flooding but instead home issues such as broken pipes, leaky or frozen pipes, sink overflow, toilet overflow, refrigerator, washing machine, water heater malfunction, dishwasher malfunction. Reliable Restoration understands it is awful and stressful. We are here to serve you every step of the water damage restoration process. Whether you are in Athens or some another Georgia area, you can contact Reliable Restoration for all of your emergency water damage needs.
Basement Water Cleanup Athens
Athens basement flooding can be a very serious water cleanup matter and go unnoticed for extended periods of time in homes that are left vacant. If it has been more than 48 hours there will most likely be mold growth, wet drywall, and the flooring will need replacing. It's important to have a professional who understands how to perform complete basement water damage cleanup and structural drying come and take care of the basement water damage as soon as possible before more damage occurs.
Reliable Restoration Is Ready For You
Whether your home has faced a terrible water disaster or you suspect the presence of environmental hazards, Reliable Restoration is here to address your needs. Our service professionals are fully trained and certified by the IICRC (Institute of Inspection, Cleaning and Restoration Certification) to meet all U.S. Government, EPA and OSHA standards. We are ready to start the water damage cleanup 24 hours a day, 7 days a week.
We are a water damage company with a commitment to excellence that starts the moment you contact us and does not stop until you are back in your business or home, fully restored.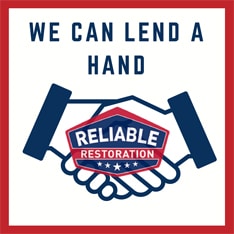 One of the absolute worst side effects after flooding, water damage, or a fire are losing data and important documents that keep your business running. From important documents to pictures, to video tapes and CDs, Reliable Restoration handles document and media recovery and restoration.
Homeowners and business owners that experience water damage to their most important belongings struggle to save their most valuable items. Water damaged documents and pictures often have the potential to be partially or fully restored by a professional document and media restoration company. Reliable Restoration offers professional document and media recovery and restoration that can save those valuable documents fast and cost-effectively.
Proper drying and dehumidification of your property is essential after a flood or water damage. Reliable Restoration is a certified, full-service water mitigation company. Our trained experts have the latest moisture detection technology and monitoring equipment needed to assure your property is dried thoroughly, damage contained and the results are environmentally safe according to industry standards. Contact us today to get started on your water removal and water cleanup.
Sewage Damage Cleanup, Removal, and Restoration in Athens GA
Sewage Problems
Don't let a sewer backup or clogged toilet ruin your property. We respond quickly and efficiently to your sewage damage and drainage emergencies with an array of services to remove sewage from your property. We specialize in septic
tank backup, toilet backup, sewage cleanup, and sewer damage restoration. We dry, clean and repair all damaged areas and get your property back to normal in as little as a week!
We have years of experience resolving various sewage cleanup and repair problems. We provide the best sewage cleanup and repair services for both commercial and residential customers.
Sewage May Be Dangerous
Sewage is one of the most dangerous mixtures that a human can come into contact with, and in some circumstances it can kill. If you will be dealing with it yourself, then wear footwear that protects you up to the knees, along with a quality face mask.
Sewage is full of pathogens, and can contain parasites, fungi, viruses, and bacteria. It is not just the splashes that you need to worry about, as they can also get into the air. Termed "black water", raw sewage contains numerous air and blood-borne pathogens capable of causing adverse health effects. Bacteria, parasites and viruses are all potentially present, making proper handling a health challenge. When dealing with sewage intrusion, state and local regulations regarding proper removal and handling must be followed carefully. In addition, OSHA mandates that all workers must be equipped with Personal Protective Equipment such as HEPA filtered respirators, eye and hand protection and protective suits.
Whether you are in Athens or other cities in greater metro area, you can contact Reliable Restoration for all of water damage needs. We offer free estimates.
Equipped to Take On All Your Water Damage Repairs
As a whole, our team holds over 80 years' experience in the disaster restoration and reconstruction industry making us one of the most highly skilled companies in the United States. With a compassionate and caring heart, we offer 24/7 emergency response to residential and commercial water damage victims. As a leader in the industry, we are trained and certified to handle even the most critical of property disasters. If you are in need of water damage repair, call us today at (678) 325-1633.
More About Athens GA
In the late 18th century, a trading settlement on the banks of the Oconee River called Cedar Shoals stood where Athens is located today. On January 27, 1785, the Georgia General Assembly granted a charter by Abraham Baldwin for the University of Georgia as the first state-supported university. Sixteen years later, in 1801, a committee from the university's board of trustees selected a site for the university on a hill above Cedar Shoals in what was then Jackson County. On July 25, John Milledge, one of the trustees and later governor of Georgia, bought 633 acres from Daniel Easley and donated it to the university. Milledge named the surrounding area Athens after the city that was home to the Platonic Academy of Plato and Aristotle in Greece.
Athens is home to attractions such as the The University of Georgia.
We serve the entire city of Athens GA including the following zip codes – 30601, 30602, 30603, 30604, 30605, 30606, 30607, 30608, 30609, 30612.